Future of Work Discussion: Building Resilient Teams at Nutanix
Join us for this future skills discussion as we speak with Deep Mahajan, Head of People Development and Culture at Nutanix, about shifts she's seen when it comes to skills training in recent years.
Thursday, June 9, 2022
2:30PM ET | 11:30AM PT | 7:30PM BST
During this discussion, we will cover:
The characteristics of resilient teams and why they matter in today's workplace
The skills employees need to develop to build team resilience
Strategies leaders can implement to develop more resilient teams
Ways to improve workplace culture within your organization
Deep Mahajan, Senior Director and Head of People Development and Culture at Nutanix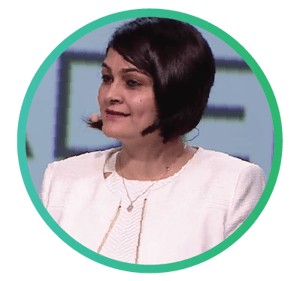 Deep Mahajan is a thought leader and innovator in the learning and development space.
She believes people are more complex than software. Although she works in the tech space, she has always found developing people much more fascinating than developing software.

She is passionate about unlocking learning from the confines of workshops and classes so it can truly flow into an organization's culture. She thrives in and nurtures places where learning is a habitual, mindful, and continuous process instead of an isolated episode requiring an L&D expert. Deep is amazed at the possibilities that digital learning is bringing to the world and is passionate about helping organizations make that transition.

Deep is so passionate about this field not because she loves teaching but because she loves learning.